I work every weekend. Not all day on both days, but usually a full day or both mornings. It is convenient for people come for fittings on weekends, so I do it. The idea was that I would take Monday off, like a hairdresser, but that hasn't been working, either. Well, I am determined to take at least part of Mondays to do some personal sewing. This week I made a short sleeved top in teal and started a brown/teal/camel skirt in a feather print. I liked the t a lot, but needed an FBA. I ended up darting the t into the armscye, which I don't love, and taking out the excess in the sleeve. It made the sleeve a bit tight, but it it wearable. I cut another in the same fabric but with 3/4 length sleeves and eased the dart end into the sideseam. Now I look like I have lumpy underarms, so I might re-do that into a side seam dart. Otherwise I like both t's.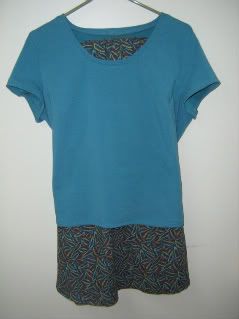 Last Monday I made a skirt in a tan/robin's egg blue reversible cotton from EOS. I did not take advantage of the blue at all though. It started out as a gored a-line with a flared section on all but the centre front section. I ended up straightening the side seams so that I didn't look quite so big. Now is is a bit snug across the thighs, but only when I sit. I figure I can wear it when I walk somewhere, just not for a car ride. I can easily hike it up to sit on the ground at the park, for example. When I have lost the recently gained 10 pounds it should still be fine.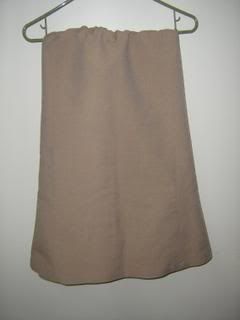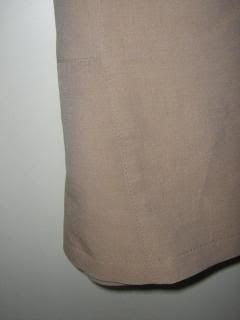 Oooh, I also purchased a new brown purse. I was trying on all the expensive ones at Winners, but this one ($39.95) stayed on my shoulder best. That was enough for me and home it came.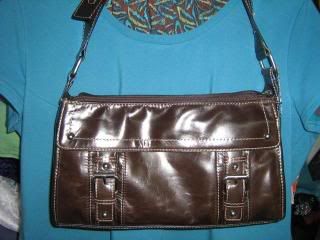 It looks a bit shiny and plastic-y in the picture, but it really is leather and looks it.