I finished my first item for the JCC on Stitcher's Guild . This is the accessory (obviously), made with the same sateen as the jacket will be and with an embroidered remnant from my local Fabricland.
I used a pattern I made myself and quilted the sateen on the upper and lower edges. The lining is the same sateen and has a cell/pen/business card sized pocket. The straps have a grosgrain backing. The technique for finishing the top edge and adding the zipper was taken from a Coach portfolio bag I have and was much simpler than other things I have tried. I was trying not to purchase anything for it and so used a zipper I had. I really should have held out for a seperable or at least a longer dress weight zipper.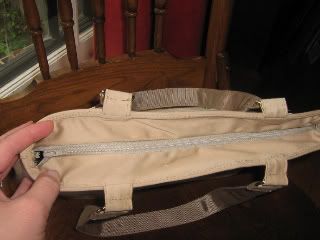 The white section is going to get dirty quickly. Does anyone have any advice on preventing this? I was wondering about using Varathane (polyurethane) on it.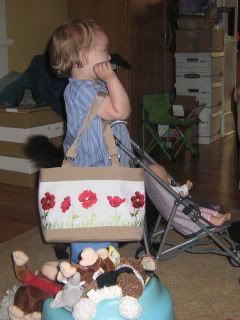 You can see why I will need to do something to protect the white twill on this bag. I was showing it to my husband and Maisie saw it. She immediately held out her hand and claimed "My turn". Once she had it she told her dad "Go shopping" and proceeded to get a baby and a stroller. When he asked her what she was going to buy she promptly replied "Diapers, go shopping diapers". There we have it.
I have hidden it on her today.