My computer died on me in late april and I find it really difficult to use the family computer. Someone always wants me or the computer or for me not to be on the computer or something.
I have a few minutes and want to post some pictures. I hope I can get it done in time.
I have to a wedding to attend this weekend, so I made a lovely teal outfit for myself. The jacket is a lace over duppioni that I beaded on the flower motifs and around the neckline.
I was able to try on all three pieces together last night and when I looked at myself in the mirror my first thought was "I look like the Queen". Now I know she is a snappy dresser for a lady of her age, but I am not her age. Nor do I have a hat to match this outfit and even so it still wouldn't make it right.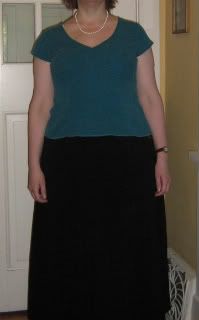 Three options. The last one would also have the black jacket for the ceremony. Also, I would wear the pearls, but not the watch. Please ignore the messy hair and lack of makeup. I had to make use of my husband while I could.