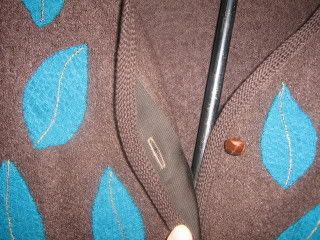 Showing the grosgrain facing to stablize the buttonholes.
The fabrics for this jacket were nearly free from Fabricland. The store sells memberships which offer discounts on purchases. They also give you a stamp card and stamp with every purchase. Every $500 worth of stamps gives $20 off of a purchase. I buy a lot of basics for the business there, but I keep the stamp cards for my personal purchases.
The wool was purchased while on sale, then with a members' additional discount, then $20 off. The ribbons had been purchased with a stamp card for another project.
The leather buttons were from a sweater of my dad's. After he died, my mother and I went through his work wordrobe and kept a few things to use as materials (and reminders) before the rest went to Goodwill. I have used the buttons on numerous garments since then.